COSTUME INSTITUTE GALA
Gosh darn, I meant to post these pictures sooner, but by the time they came out I was

retiring

for bed.
Yes some of us do work. As always I just want to state that this is my general opinion and not to be taken seriously, after all I'm not that important. Seems like anyone that's anyone showed up to this thing...
I thought Mary-Kate looked okay till I saw a picture of her beside Ashley. She looks like an 80 year old washed up actress here. I think sleek straight hair would have gone a long way with this dress. Ashley needs her eyebrows fixed, but she's still a fox. It's hard to believe she's only like 5'0 or something, because this dress really elongates her body.

I had to give her five stars, homegirl has never looked so good. I loved that she paired it with a green stoned cuff. If you want to turn heads you definitely do it in a dress like this!

Diane never disappoints, I can't even remember one outfit that she's worn that I didn't like. There's something very Sharon Tate about her here that I can't get out of my head. Christina Ricci always looks like a living doll. This Givenchy dress is stunning, but I don't think it would look good on just anybody.
DIANE KRUGER
CHRISTINA RICCI
I think Michelle's

YSL

dress would have

definitely

been a contender for me if I had been invited to such a party.
There's something very mid 90s about
Emmy R

ossum
, I don't love it, but I don't hate it either.
1/2 MICHELLE TRACHTENBERG
EMMY ROSSUM

These two are interesting beauties, and Tilda is a unique dresser that's for sure. I like Maggie's dress, but I think she needs to lose the necklace, lipstick and hairdo. A sleek updo would have sufficed no?
TILDA SWINTON
MAGGIE GYLLENHAAL
Beyonce looks like she always does wearing Armani, except this time I like her choice of color. I think it's the hair that killed the outfit. As for Blake this dress just doesn't seem very her, maybe the gloves are too much, or maybe they are just right?


1/2 BEYONCE
BLAKE LIVELY
Ivanka looks like a princess here, definitely one of my favorites of the night! As for Anna I had to give her three stars for wearing this Chanel Couture because she might come after me and shut my web site down. *Shudders*

IVANKA TRUMP
ANNA WINTOUR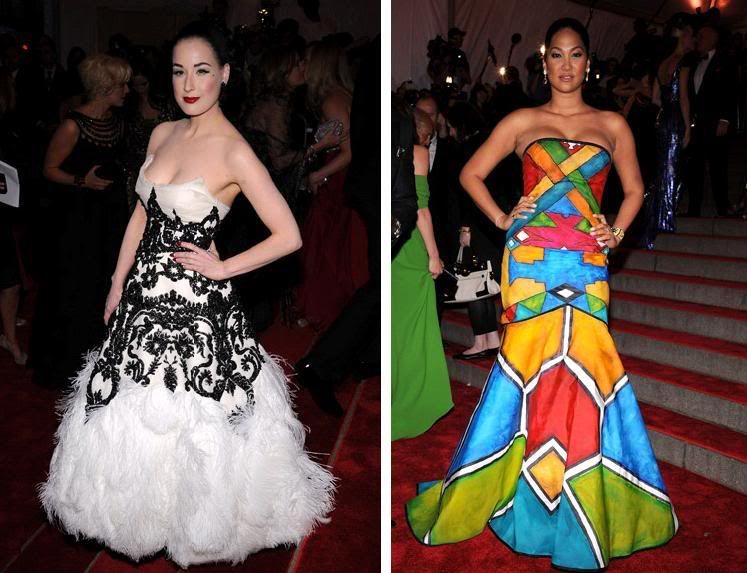 I think if Kimora had worn her hair down it would have gone a long way. Dita looks stunning, but what else is new?
DITA VON TEESE
KIMORA LEE SIMMONS


THE COUPLES
Homegirl is a mess here. That's all I have to say.
KATIE HOLMES
I think this is the worst Victoria has looked in a while, a mix of Old, bitchy, constipated and horrible. As for

Jlo

, I like her from the neck up.



VICTORIA BECKHAM
JENNIFER LOPEZ
Gisele knows she has a hot body, look at that side boob! As for Rachel I really like this dress on her, it's very her. It's nice to see somebody that sticks to their style no matter what.



GISELE BUNDCHEN
1/2 BILSON
She's turning into a robot right before our eyes!

SARAH LARSON
THE MODELS
Molly blew everyone away with this yellow dress. I'm glad she went for a spring color instead of something dark. Afterall it's that time of the year!
MOLLY SIMS
KAROLINA KURKOVA
THE SHORT DRESSES


Lake is fierce! This risk work well for both her and

Thandie

.
I love that
Thandie
isn't afraid of fashion, all her outfits are so unique, and not in a bad way.
LAKE BELL

THANDIE NEWTON

THE GREENISHBLUES


Eva looks like crap! What was she thinking? Is she in the 90s? This is so wrong on so many levels and she's such a beautiful girl. I'm starting to think she doesn't have a stylish, she always seems like a mixed bag, you never know what your going to get.


EVA MENDEZ

THE BRIGHTS
I don't think I've ever seen Eva in something like this. Again I like it, but don't love it.
Camilla
reminds me a frozen lake in the winter. I think she would have
benefited
in the wow factor by wearing gold accessories.
EVA LONGORIA PARKER
CAMILLA BELLE
I love this color on Stella, it's nice to see her out and about.
This dress on Kate is great, again if i was invited to such a party this would have been on my list of choices. I love how
David Bowie
always steps back and let's
Iman
shine!
STELLA MCCARTNEY
JUST NO

First of all, why was Piper invited to this? What has she done lately?
The makeup and hair makes her look so old and she's so beautiful. It's a shame that she would do that to herself...
When I first saw this picture of Naomi, I thought it was Nicolette Sheradon. This is just frightful, the dress might have been okay if it wasn't for the shawl.

NAOMI WATTS
CHAMPAGNE COLOR

I can't believe Scarlett is engaged to Ryan Reynolds, I really wanted him to get back with Alanis.
What went wrong with those two? I really don't like her tattoo either, it probably would have been better in black ink instead of all the colors.
SCARLETTE JOHANSSON

1/2
MISCHA BARTON
ALL IN BLACK
Liv's dress reminds me of a midnight sky
, I think her hair is nicely styled too. I don't care for
Fergie Ferg's
dress.

LIV TYLER
FERGIE FERG
Mary J, please do something with THAT yellow hair and THOSE earrings.
As for
Claire
I think this is the best she's ever looked, this dress does wonders for her. The fish tail, and cuts on the shoulder keep the dress from being too boring.
MARY J BLIGE

CLAIRE DANES
I expected more from Sarah Michelle, this is just so boring!
Normally she is one to watch out for...

ZIYI ZHANG

THE DESIGNERS


ARMANI / CHRISTIAN LOUBOUTIN

Julia looks like an old hollywood beauty here from the 60s.
I think it's adorable and it suits her really well.

JULIA ROBERTS
VALENTINO / KARL LAGERFELD
Kate Bosworth is now offically a risk taker.
I love this dress, it's short, but still appropriate for this gala. I would have liked
Claudia's
outfit more if she had pulled her hair up, I think it's distracting from her dress.

CLAUDIA SCHIFFER

KATE BOSWROTH
Janet well she's Janet.
It's a rare day when I like anything that she wears. I think she's wearing way too much makeup too, but maybe she's getting to that age. Speaking of faces,
Donatella's
looks like it was pushed into a frying pan, but we all knew that already. I really like her dress though, credits for that. What is with the hump behind
Allegra
?

DONATELLA VERSACE
MARK JACOBS & NEW BOY
Glad to see he's not running around with those young myspace boys anymore!

Today's Links: The Clothes Horse, copperoranges, enc, Fashiographer, Aretha, emily, Sharon Rose, Fashion Tidbits, Miss Woo, aizat.cinta.goddess, SET, Mer, Dollfaced Rebel, Cate, Vain and Vapid, little parisienne, ModeJunkie, Kira Fashion, JuliAM, molly, Neekoh, Eliza, jellofer, Chic Closet, jenny h., Jelenie, enc, NewlyInspired, Wendy, vogued out!!!, Secret Agent, nv, hannahcouture, Winn, Zoe (Raining Hats and Clogs), sofi, Belle, Ragamala, Seraphine, Daphné, Sharon Rose, Siljesfashion, Imelda, Imelda Matt, glamour girly, In Yr Fshn/Young and In Love Neekoh, Jennifer Stoddart, The Divinitus, miss vintage love, Juliet, bear, Silvana*