SOME OF US LOVE TO HATE HER


IT'S

JANICE DICKINSON




I don't care what anybody says, she's my favorite model and I love this woman. Nobody seems to definitely know how old she is, 53,55,58, 60? She was born into a dysfunctional family, her dad being a pedophile and an abuser and her mom a pill popper. Janice started her modelling career in the 70s after getting the door slammed on her numerous times. She fought the stereotype that a model had to be the blond girl next door. 1979 was the year, yes the year she claims she coined the word "Supermodel", thus becoming the world's first supermodel, but this has been refuted by many people. Janice has been married 3 times and has 2 kids. She's been on the reality shows I'm a celebrity...get me out of here! and The surreal life. She was also a host on America's next top model. She's currently running her own modelling agency and has two shows The Janice Dickinson Modelling Agency and Abbey & Janice: beauty & the best. If you haven't seen JDMA, you should it's the most entertaining hour on TV!

JANICE DICKINSON NOW
All the

botox

and the surgeries seem to be worth it to Janice.
As fake as it all is, she looks darn good for her age. Everyone knows she's going to be the best corps ever.
Janice is still modelling today.

ANTM should have never let her go, I miss her antics so much. The show totally went downhill after she left and Tyra started losing her mind.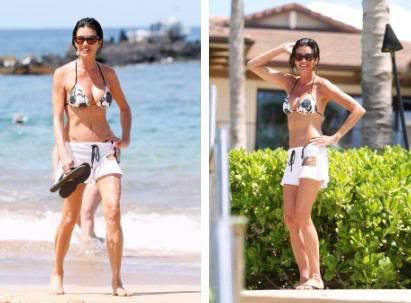 I can only pray to look this good when I'm older, minus the surgery.

-------------------------------------------------------------------------------------------------
ZAC
POSEN
DOES TARGET AUSTRALIA
I remember when the Stella McCartney line came out in Target last winter
(Fall for North
Americans
).
I showed up there bright and

Early

, but apparently it wasn't early enough. It was absolute

pandemonium
, people were just pulling things off the rack and stripping right there.
I didn't go so crazy though...why you ask?
Target Australia is crap. Okay maybe not just Target, everything in Australia costs 3 times as much for everything. 50-80$AUD is your average going price for just a shirt. (Don't get me wrong I love Australia it's my second home).
The

Stella

line at Target ranged from like 60-300$AUD (ish). And most of it was in the 100$ plus range. I didn't even know Target could sell clothes for that much.
It's so

disappointing

, I thought the point was to make the stuff available to the masses? Surely somebody that can afford a 300$ blazer from target can get the real thing?
The funny thing is that in the end a lot of people ended up coming to their senses and returning what they bought. I went to Target two weeks later and there was still plenty left on the racks that they were trying to get rid of.
I felt like I had the last laugh.
The

Zac

Posen

collection
is priced about the same, the dresses are running at about 250$ - 300$AUD. In the end It's still a bargain for a 'designer' outfit, but I can forget that it is
TARGET
.
I'm not impressed with the casual outfits.


The only piece I really love from this collection is that last red dress.


There's s

omething

very

Nicholai

by Nicky Hilton I can't shake about the above picture.
-------------------------------------------------------------------------------------------------
DO LIFESTYLE


Mary-Kate is outshining Ashley for once!

-------------------------------------------------------------------------------------------------

CELEB LOOKS

JENNIFER LOPEZ AND THAT GUY
There's something off here, I just can't put my finger on it.
FOR YOUR ENJOYMENT:
PARIS HILTON EATS IT
HIDE IT

Today's Links: The Clothes Horse, Jill, Marleaux, WendyB, christine, Imelda Matt, Debbie Shiamay, -h of candid cool, Neekoh, Seraphine, Cate, jellofer, Kira Fashion, Ediot, Jennifer Stoddart, Lotem, jayne, sarah mendelsohn, because im addicted, molly, The Seeker, Addison, copperoranges, Secretista, ChiliLady, Chic Closet, lara, coco, Cate, enc, Fashion Tidbits, LBIC, Molly :], Mer, Kira Fashion, e.jay, Natty, atelier, maveri_ck<3
Ps. So many typos! I'm so sorry, I was so tired last night.
Update: Added more pictures of Janice, so many to choose from!